Vertical
Straight lift

Colour

Width

Choker

Basket

Basket 45

Basket 90

Hon

25 mm 2 ply

800 kg

2000 kg

1800 kg

1400 kg

2 Ton

Green

50 mm 2 ply

1600 kg

4000 kg

3600 kg

2800 kg

3 Ton

Yellow

75 mm 2 ply

2400 kg

6000 kg

5400 kg

4200 kg

4 Ton

Grey

100 mm 2 ply

3200 kg

8000 kg

7200 kg

5600 kg

5 Ton

Red

125 mm 2 ply

4000 kg

10000 kg

9000 kg

7000 kg

6 Ton

Brown

150 mm 2 ply

4800 kg

12000 kg

10800 kg

8400 kg

8 Ton

200 mm 2 ply

6400 kg

16000 kg

14400 kg

11200 kg

10 Ton

Orange

250 mm 2 ply

8000 kg

20000 kg

18000 kg

14000 kg

12 Ton

Orange

300 mm 2 ply

9600 kg

24000 kg

21600 kg

16800 kg

15 Ton

Orange

250 mm 3 ply

12000 kg

30000 kg

27000 kg

21000 kg

16 Ton

200 mm 4 ply

12800 kg

32000 kg

28800 kg

22400 kg

20 Ton

Orange

250 mm 4 ply

16000 kg

40000 kg

36000 kg

28000 kg

24 Ton

Orange

300 mm 4 ply

19200 kg

48000 kg

43200 kg

33600 kg
Polyester webbing slings are manufactured as per ASME B30.9, IS-15041 & KN 1492-1 Standards with rated capacity upto 30 Tons.
How to order polyester webbing slings: Width X Capacity X Effective length in Mtrs.
For example – 50 MM x 2 T x 3 Mtr Means 50 MM Width, 2T Cap, 3 Mt r long.
We also provide various types of anti Abrassive and cut resistant sleeves which improves the life of polyester webbing slings by many times, Please reffer our sleeves / protectors catalogue for the same

Synthetic Sling Inspection
All of our synthetic slings products are designed for long life under punishing conditions, but they will eventually wear out after extended use. The key is to knowing when to replace them, and that's why it's very important to inspect your slings on a regular basis.
Type of inspection;
1. Initial Inspection : Before any new or repaired sling is placed in services, it shall be inspected by a designated person to ensure that the correct sling is being used, as well as determine that the sling meets applicable specifications and has not been damaged in shipment.
2. Frequent Inspection : This inspection shall be made by the user handling the slings each time it is used.
3. Periodic Inspection : The frequency of inspection depends on three important factors:

Sling usage – the more you use a sling, the more you need to inspect it.
The working environment – the harsher the conditions, the more often you need to inspect.
Sling service life – based on your experience in using slings.
Inspection Records
Written inspection records, utilizing the identificatin for each polyester round sling as established by the user, should be kept on file. These records should show a description of the new polyester round sling and its condition on eachperiodic inspection.

Repair of Round Slings
There shall be no repaires of load bearing fibers, Repaires to the protective covers shall be done only by the original manufacturer or there appointed agent. Only polyester roundslings, which can be identified from the information on the identification tag, shall be repaired.
Allrepaired polyester roundslings shall be proof tested to a minimum of (2) times the rated capacity before being put back into service, Certification of proof test should be provided.
Removal Criteria For Round Slings
Acid or caustic burns.
Missing or illegible tag
Evidence of heat damage, Melting or charring of any part of the sling.
Holes, tears, cuts, snag or embedded articles.
Broken or worn stitching in cover exposing core yarn.
Excessive abrasive wear, broken or damaged core yarns.
Knots in any part of the sling.
Distortion, brittle or stiff area on any part of the sling which may indicate chemical, heat or ultraviolet / sunlight damages.
Excessive pitting or corrosion, or cracked, distorted or broken fittings.
Other visible damage that causes doubt as to the strength of the sling.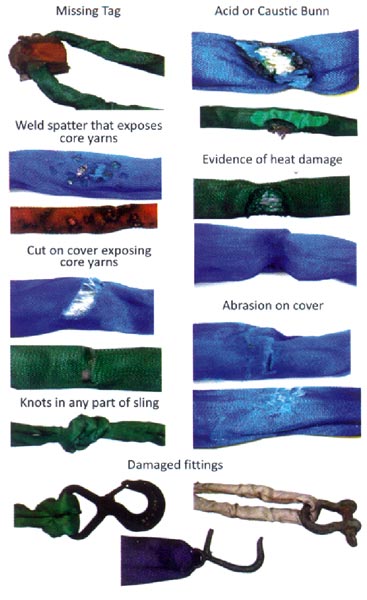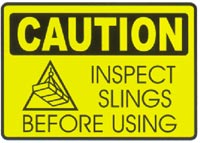 A Safety Bulletin is included with every round sling manufactured by us. The bulletin lists inspection information and operating practices applying to synthetic round slings.
Sting can fail or be damaged due to misuse or overload, inspect the sling before each use. Damaged sling should be taken out of service. Use the sling in presence of trained personel only. Do not exceed the rated capacity. Protect the sling from being cut by load edges, sharp corners, protrusions, abrasive surfaces and ultraviolet rays. Avoid exposure to acid, alkali & temperature over 180 deg. F. Improper use may lead to severe personal injury or death.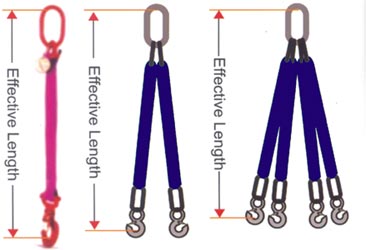 POLYESTER MULTILEG SLINGS
Our multi-leg slings are manufactured with either flat webbing slings or with round slings in combination with high quality steel components like master link assemblies, bow shackles and different variety of eye hooks. They are manufactured according to EN 1492-1 OR ASME B30.9 if the textile part is a webbing sling or according to EN 1492-2 if the textile part is a round sling. The textile part of the multi-leg sling has a safety factor of 7:1 OR 5:1 and the metal part has a safety factor of 4:1.
Multi-leg slings can be manufactured in different assemblies having two legged, three legged or four legged slings. They can have different combination of hooks like, eye hook, self locking hook, hook with latches, etc. at the lower end of the slings. They can have different combination of hooks like, eye hook, self locking hook, hook with latches, etc. at the lower end of the sling to suit different lifting applications. Textile Multi-leg slings are easy to use and provide many advantages over other multi-leg slings:
Easier to handle as compared to wire rope or chain.
The total weight of the assembly is less.
Master link creates sufficient space on the crane hook.
Round slings can be rotated to have different bearing points thus resulting in uniform wear.
Proper and even distribution of load
Customised multileg slings can also be manufactured upon request.
BAG / ZOLA TYPE SLINGS :
We manufacture Bag Slings in any length as per customers requirement. These are special type of slings used for lifting products requiring wider support / holding while lifting. These slings provide wide contact to surface area of the product for minimum slippage and even distribution of load on to sling while lifting.
Customised bag slings can also be manufactured upon request.