BHARAT WIRE ROPE
Manufacturing Steel Wire Ropes since 1986, and now commissioned a state of the art, fully integrated Steel Wire Rope Plant at MIDC, Chalisgaon, Maharashtra, India.
Specifications / Dimensions (mm)
Quality
30 years Proven experience in delivering high-quality products.
One of the first few wire ropes manufacturing units in India to be awarded ISO 9001/2008 by British Standard Institute.
Licensed to mark its products with IS awarded by Bureau of Indian Standards (BIS licenses for 7 different categories).
Licensed to certify ropes by DGFASU (Directorate General. Factory Advice Service & Labor Institutes, India) for Global Ports.
ROSO (Research Design and Standards Organization, India) Approval for 4 categories
DGMS (Directorate General of Mines Safety, India) Approval & MMD (Mercantile Marine Department, India) Approval.
THE CUSTOMER
Government and Semi-Government Organizations
Indian Railways, Major Ports, Electricity Boards, Shipping Industry, Oil and Natural Gas Corporation, Indian Army, Indian Navy, Indian Air Force, ISRO (Indian Space Research Organization), COAL India, BHEL (Bharat Heavy Electricals Limited), Ministry of Defence, PGCIL (Power Grid Corporation Of India
Limited) and many others…
PRIVATE ORGANIZATIONS
Our Clientele also includes leading Multinational Companies…
EXPORT
Exports to more than 35 Countries across the Globe. Some of the countries are USA, Germany, Belgium, Netherlands, Spain, South Africa, Mauritius, Egypt, Uganda. Oman. Nepal, Singapore, Australia, New Zealand, etc…
Tensile Strength (N/mm Sq)
1570, 1770, I960
FINISH – Galvanised. Unfaftvantsed
LAY:-
RHO – (Right Hand Ord. Lay)
LHO – (Left Hand Ord Lay)
RHLL – (Right Hand Langs Lay)
LHLL – (Left Hand Langs Lay)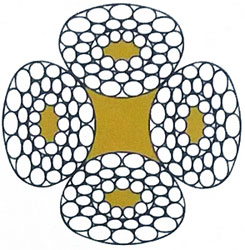 INDIROPE-4
4 X 39 (15-15/9-FC) + FC
Nominal Diameter
Approximate Mass
Minimum Breaking Force
1770 N/mm2
1960 N/mm2
mm
Fibre Core
Fibre Core
Fibre Core
FMC
FMC
FMC
(1)
(2)
(3)
(4)
mm
Kg/100m
kN
kN
10
44.8
64
69.4
12
65.4
92.3
99.9
14
88.8
125.5
136.5
16
117
164.5
177.4
18
149
207.5
224.5
19
167
231.5
250.5
20
183
256.5
277.5
22
214
310
336
24
253
369
400
25
275
399
432
26
298
433
469
28
346
502
544
30
398
576
624
32
456
656
689
34
512
740
802
36
574
830
898
38
640
924
1002
40
709
1002
1082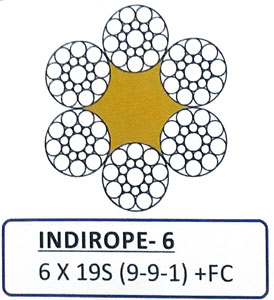 Nominal Diameter
Approximate Mass
Minimum Breaking Force
1770 N/mm2
1960 N/mm2
mm
Fibre Core
Steel Core
Fibre Core
Steel Core
Fibre Core
Steel Core
FMC
IWRC
FMC
IWRC
FMC
IWRC
(1)
(2)
(3)
(4)
(5)
(6)
(7)
mm
Kg/100m
kN
kN
kN
kN
6
134
15
21.1
22.8
 
 
8
23.8
262
37.5
40
42
45
10
373
41
59
63
65
70
12
537
59
84
91
93
101
13
63
69.3
99
107
110
118
14
73
80 3
115
124
127
137
16
954
105
150
162
166
170
18
121
133
190
205
210
227
19
135
149
211
228
234
253
20
149
164
234
253
260
280
22
180
198
284
306
314
339
24
215
237
337
364
374
403
25
233
256
366
396
406
438
26
252
277
396
428
439
474
28
292
321
459
496
509
549
30
335
368
527
570
584
630
32
382
420
600
648
664
717
34
431
 
677
731
750
810
36
483
531
759
820
841
908
38
538
592
846
913
937
1012
40
596
656
937
1012
1038
1121
42
65 7
721
1033
1116
1144
1236
44
721
792
1134
1225
1256
1356
46
788
865
1240
1339
1373
1482
48
858
942
1350
1458
1495
1614
50
932
1022
1465
1582
1622
1751
51
970
1064
1524
1646
1688
1822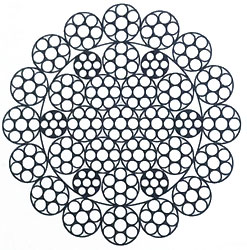 Nominal Diameter
Approximate Mass
Minimum Breaking Force
1770 N/mm2
1960 N/mm2
mm
Steel Core
Steel Core
Steel Core
IWRC
IWRC
IWRC
(1)
(2)
(3)
(4)
mm
Kg/100m
kN
kN
12
64.5
92
102
13
72
108
119
14
88
125
138
16
115
165
181
18
145
207
229
19
162
231
255
20
179
255
282
22
217
309
342
24
258
367
406
26
303
431
477
28
351
499
553
30
403
570
631
32
459
653
723
35
549
794
879
36
581
825
914
38
647
921
1020
40
718
1020
1130
INDIROPE-18
18×7 (6-1) + WSC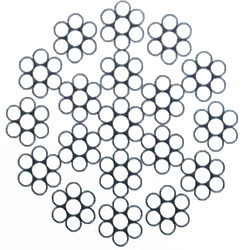 Nominal Diameter
Approximate Mass
Minimum Breaking Force
1770 N/mm2
1960 N/mm2
mm
Steel Core
Steel Core
Steel Core
IWRC
IWRC
IWRC
(1)
(2)
(3)
(4)
mm
Kg/100m
kN
kN
8
25.7
37
41
9
325
47
52
10
40.1
58
64
11
485
70
78
12
57.7
84
93
13
67.8
98
109
14
78.6
114
126
16
103
149
165
18
130
188
208
19
145
210
232
20
160
232
257
22
195
281
311
24
232
335
370
26
272
393
435
28
315
455
504
32
412
595
659
36
521
753
833
38
580
839
929
40
643
929
1029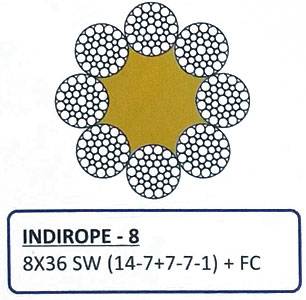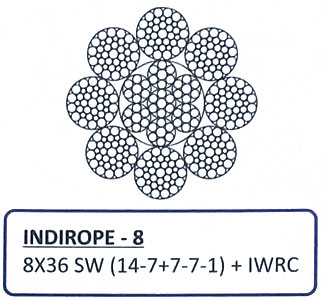 Nominal Diameter
Approximate Mass
Minimum Breaking Force
1770 N/mm2
1960 N/mm2
mm
Fibre Core
Steel Core
Fibre Core
Steel Core
Fibre Core
Steel Core
FMC
IWRC
FMC
IWRC
FMC
IWRC
(1)
(2)
(3)
(4)
(5)
(6)
(7)
mm
Kg/100m
kN
kN
kN
kN
10
38
41.8
60
65
Ob
71
11
46
50.6
72
78
80
86
12
547
60.2
86
93
95
103
13
643
70.7
101
109
112
121
14
745
82
117
127
130
140
16
973
107
153
165
169
183
18
123
135
194
209
214
232
19
137
151
216
233
239
258
20
152
167
239
258
265
286
22
184
202
289
312
320
346
24
219
241
344
372
381
412
26
257
283
a y\
436
447
483
28
298
328
469
506
519
560
32
389
428
612
661
678
732
36
493
542
775
837
858
926
38
549
604
863
932
956
1032
40
608
669
956
1033
1059
1144
44
736
810
1157
1250
1281
1384
48
876
964
1377
1487
1525
1647
52
1028
1131
1616
1745
1790
1933
56
1192
1311
1874
2024
2076
2242
60
1369
1506
2152
2324
2383
2573
64
1557
1713
2448
2644
2711
2928