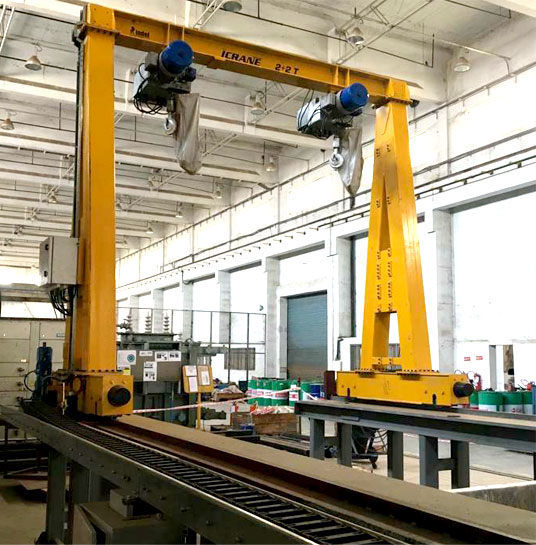 TECHNICAL SPECIFICATIONS
SG GRANTRY CRANE
FEATURES
Precise and stable geometry

The load-bearing crane girder is part of the frame structure which, together with the legs at either end, forms a traveling bridge. The cranes run on ground-level rails instead of elevated crane runways

Single girder gantry crane are particularly effective for outdoor operation in storage yards and loading areas-
BENEFITS
Engineered for application

Efficient solution at workstation level for indoor application

Specialized crane and girder design software enables optimum utilization of height and space thereby making it flexible for new or existing structures without extensive change to structures

Wheel rail combination is designed for long life

Precise machined tolerances for minimum wear is assured by the joints manufactured between the girders and end carriages

Can be equipped with two hoist & two trolleys for handling longer length jobs by synchronizing its hoisting and cross travel speed.

Controlling is done by pendant travelling station or optional radio controls

Low operation and maintenance costs, high uptime arising from optimized design.

Configurations of electric hoist can be customized

Prevention from damage of crane in stormy conditions is provided by optional rail clamp that locks it

Consistent performance

Torsional rigidity of both girders and end-carriages enables favorable utilization of the available height and space by the state-of-the-art design technology

Component selection and technology devised to be user friendly and for efficient load handling and reduced maintenance

Smooth handling and exact positioning of loads when supplied with VFD

Gantry crane can be provided with CRD system for long travel, its help to reducing the cost of gantry structure which is required for conventional EOT crane.